The Route to Fitness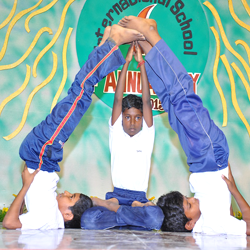 " The world is a great gymnasium where we come to make ourselves strong - Swami Vivekananda. "
Health is wealth; at AIS students take part in various games both indoor and outdoor. Facilities include table tennis, chess, carrom, badminton, basketball, volleyball, Cricket and Kabadi and 200 meter track is provided for preparing them for national level games.
Horse riding, Karate and yoga practice are available for all the students to make them confident and physically sound.